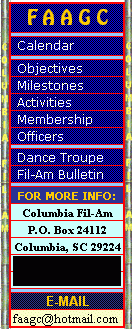 The Columbia Fil-Am website was designed and developed by N.C. Alon.
Copyright © 1999-2002 FAAGC & N.C. Alon.























FAAGC publishes a newsletter which chronicles its activities and serves as a main vehicle for the Association to achieve its objectives and maintain communications with its members and interested parties. The Fil-Am Bulletin features regularly articles on the Philippines and its people, history and culture. Copies of the Fil-Am Bulletin are being archived at the South Caroliniana Library of the University of South Carolina (Library Call Number: 301.451 F47)

Contributions of articles (as well as financial donations) are most welcome; please contact the Editor for details. If you want to subscribe or wish to receive a copy of the Fil-Am Bulletin, email the Editor with your name and complete mailing address.




Check out the latest issue of Fil-Am Bulletin in Portable Document Format (pdf) . Whether you're using a Windows, DOS, Macintosh, SUN, or UNIX computer, you can view and print a PDF file using the free Adobe Acrobat Reader, downloadable from the Adobe web site.


******************************





issues now available online:

Spring 2005 - Volume 14, No. 3, issued March 2005 - (1.5 MB)


Fall 2004 - Volume 14, No. 2, issued December 2004 - (1.7 MB)


Summer 2004 - Volume 14, No. 1, issued August 2004 - (2.1 MB)


Spring 2004 - Volume 13, No. 3, issued April 2004 - (807 KB)


Fall 2003 - Volume 13, No. 2, issued December 2003 - (733 KB)


Summer 2003 - Volume 13, No. 1, issued August 2003 - (3.0 MB)


Spring 2003 - Volume 12, No. 3, issued April 2003 - (803 KB)


Fall 2002 - Volume 12, No. 2, issued November 2002 - (1.82 MB)


Summer 2002 - Volume 12, No. 1, issued July 2002 - (2.92 MB)


Spring 2002 - Volume 11, No. 3, issued March 2002 - (367 KB)


Fall 2001 - Volume 11, No. 2, issued October 2001 - (1.36 MB)


Summer 2001 - Volume 11, No. 1, issued August 2001 - (1.32 MB)

******************************





Next Page