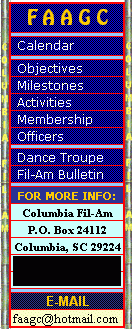 The Columbia Fil-Am website was designed and developed by N.C. Alon.
Copyright © 1999-2001 FAAGC & N.C. Alon.





















Columbia Fil-Am Dance Troupe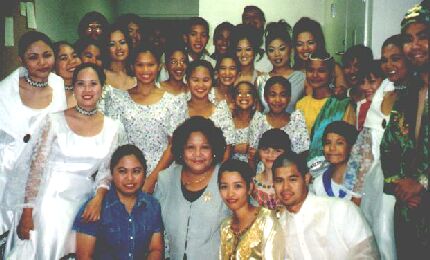 Flashback .....to November 6, 1993 . . .
. . .the Association's Fil-Am Youth Cultural Dance Troupe, with pioneer members A.J. Alon, Bryan Brown, Jessica Cuaresma, Jeslie Ann Cuaresma and Chrissy Hopkins, made its first public performance, (outside of FAAGC's events), at a Columbia international festival. . .

Fast Forward .....to August 29, 1998 . . .
. . . the Columbia Fil-Am Dance Troupe, with both youth and adult members, served as the opening act for the recording artists Pinay during the FASA Philippine Showcase at the Koger Center for the Arts . . .


From its humble beginnings as a provider of entertainment during FAAGC activities, the all-volunteer Columbia Fil-Am Dance Troupe has emerged as a much-sought-after performing group during school and community events in the Greater Columbia area and neighboring communities.
Under the directorship of Grace Collins, then Tessie Kenerson, and now Precy Walker, and despite constant changes of personnel typical of a volunteer group, the dance troupe has continued to serve as ambassadors for inter-cultural education and understanding while performing traditional Philippine folk dances.

Next Page