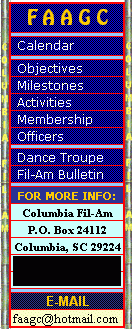 The Columbia Fil-Am website was designed and developed by N.C. Alon.
Copyright © 1999 FAAGC & N.C. Alon.



























Program of Activities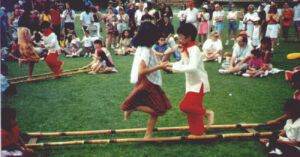 The Columbia Fil-Am Association has a continuing program of educational/cultural activities designed to share much-needed information on the Philippines and its cultural heritage with the surrounding communities. The program includes:

a cultural dance troupe which performs Philippine folk dances at community or school events;

a newsletter which features articles on the Philippines and its people, history and culture;

a speakers' bureau for talks or audio-visual presentations;

educational exhibits displaying Philippine arts & crafts, references, and informational posters.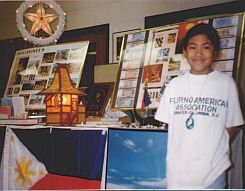 Since its formation in 1991, FAAGC has, among others:
mobilized its limited resources to help calamity victims in the Philippines and the U.S.;
participated in major community festivals and events in Columbia and neighboring communities;
been providing cultural mini-shows, educational exhibits and/or audio-visual presentations in schools, churches, and patient-care facilities;
donated much-needed Philippine reference books to area schools and libraries;
started raising funds for a youth scholarship program and a Fil-Am community center;
provided Filipino-Americans and other interested parties, through its cultural presentations and social events,opportunities to share the Filipino heritage and to promote friendship and fellowship.
Next Page